It is that time of the month again, well, that time of every second month... The time I have my infusion treatment and today I have to do the pre-tasks, which includes getting a blood test to make sure I can have the treatment. The treatment is a TNFa treatment which inhibits inflammation response and that means that if for example I have a flu, the treatment would stop my body from fighting it and it would make it much, much worse.
I am in the waiting room awaiting my number to come up. At this time if day it is pretty quiet here though as all the old people come in the morning and most of the work people won't arrive for an hour or two. I am number 91.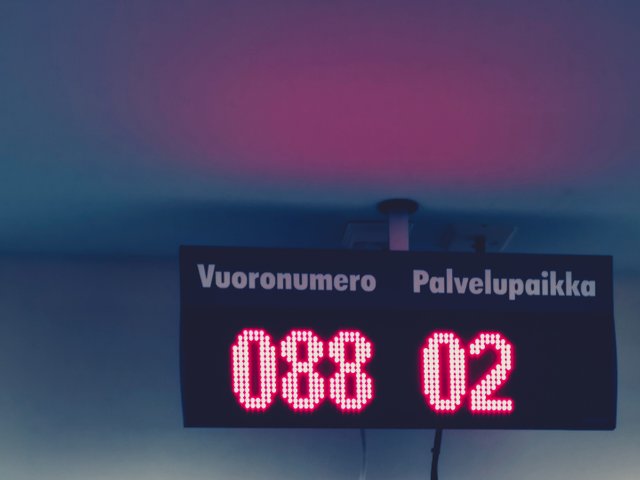 And back. About two years ago they changed the needles they use and the new ones are much sharper than the old which means that unless they hit a nerve, it is aost painless. They didn't hit a nerve, all good. It is amazing how such a minute difference can have such a large impact and for me as someone who doesn't like needles in the slightest, the experience of having a blood test has become much easier.
Thank you to whoever thought that it was still worth investigating how to make needles sharper, it makes a difference.
"Good enough" is only ever time related and if a task that is done good enough today still requires doing tomorrow, it might be worth seeing if there is a better way to do it. Continual improvement of what and how we do things is much like our own evolutionary processes of incremental change. Sometimes however, some increments can be larger than others and when coupled with other factors like alignment with time and available resources, the compound effect can be enormous.
Ledgers have been around for thousands of years and that is all the blockchain really is. However, intertwine a ledger with global communication systems, level of technological knowledge of usage, applications and hardware that can utilise and economic incentive for government, corporation and individuals - and that simple ledger suddenly becomes supercharged.
While the wait might be longer than mine for my blood test today, the components that compound against each other to add capability, functionality and market penetration are aligning. When they click into place, the world can change rapidly.
We often underestimate how fast things can change and we often overestimate the impact individual pieces will make. However, with our less than capable mental prediction models for compounding factors, many of which lay outside of our knowledge base or focus, we are highly likely to calculate poorly. With limited information and a limited ability to calculate that limited information accurately, the "expected" outcomes are often replaced by surprises.
Sure, many will claim obviousness in hindsight, but how come those same people didn't take advantage of their vision pre-outcome? Everyone likes to feel intelligent and many ttake a path of predicting the past I order to do so. Looking forward though, they won't risk it.
The past is only predictive of the future of the future is similar to the past, which is why selectionary evolution works at all. However, when it comes to the speed of change that we as a species are making on the technological and social fronts, using the past is not predictive if it doesn't factor in the changes in how those conditions would be used or influence those affected.
The best coaches of the 1970s would likely fail coaching today because the players are different, incentivizes by different things, hold different ideals, different emotional response mechanisms and different motivations. I see many people relying on what they know without factoring in what has changed or, how the people involved have shifted.
Those who stay narrow are only relevant whilst their narrow field is relevant.
With the speed at which advancements are being made, the specialised are becoming increasingly irrelevant in many fields as they can be programmed and replaced - their skill automated. Most in any specialisation are average at their job, and average is easy to replicate for simple process orientated skills.
I was thinking a little bit about this the other day when a Finnish bank announced more layoffs of the workforce. Once the technology is available to handle mass transactions, once people never need visit a branch, once integrated - how many people are going to work at a bank?
However, most jobs are similar, simple, replicable. Even many of the online revenue streams of data entry type positions and maintaining links are going to be automated, because an AI doesn't require a salary.
This puts an interesting question on is as human consumers as value is driven by what we choose to consume. Do we value human creation, or high quality robot? We all want the best in life, but that will increasingly mean demanding what no human can ever do.
Will you read an AI version of this article over the one a human created? Will you enjoy it more? Will you only care about the difference if the AI chooses to reveal itself?
The thing with AI is that once it starts creating for itself, it will improve exponentially and continually until it improves the needle until we can't feel the inception at all.
But, we are all too smart for that...we'll always know the difference...
Lay back, this won't hurt at all.
Taraz
[ a Steem original ]