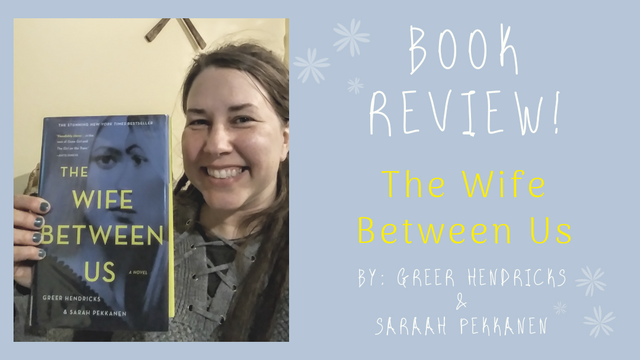 It's been a long minute since I've found a book I just couldn't put down. My kids are book hungry, and they spend countless hours reading and rereading their favorites, then going to the library to find new ones.
Honestly, I was getting envious at all their good luck! So, I was really craving a good story, one that was full of twist and turns that sucked me in. Something that I could finish in just a few days because it was that dog gone good.
And I found it...boy, did I find it!
The Wife Between Us
By: Greer Hendricks & Sarah Pekkanen
This fictional story is based in present day in New York City, and is written in three parts. The story alternates between two view points. The first chapter is written in third person past tense and follows a young woman named Nellie. The second chapter is written in first person present tense following a woman named Vanessa. As the story begins to unfold, the connections between the characters intensifies as the plot begins to thickens. What seems to be a classic story of regret, anger and jealousy between the ex-wife and her replacement, turns into something much more complicated.
The strong theme of love, betrayal, and what family really means weaves effortless through this novel.
My Reaction

When I first started the book, I was instantly intrigued by the alternating view points, not only because you realize that these two characters are equally important, but that I had never read something where they also changed past and present tense. Personally, I don't hold a preference to POV, so this interchanging didn't bother me. I was little annoyed by the amount of detail the authors seemed to go into describing minute details. That is, until I realized that they were all important to the story. These details are what really bring it together.
I love a good mystery in a book, and I love to try and guess what's actually going on. Since I picked this specifically because it was full of twists and turns, I was guessing from the opening page. But try as I might to guess what was actually going on, I was always wrong! The authors do a great job pulling you along for the ride. Right as you begin to understand these character's motivations and you think you might know what comes next, the whole story shifts in a direction you would have never guessed! As you begin to root for one character, the authors begin to drop hints and clues that shape your perspective in an entirely new direction.
I thought they also did a great job with intense content. I was drawn into dramatic events without feeling like I was being pushed, and any "adult" content was tastefully done and held meaning to the story.
My Recommendation

If you love getting your hands on a book that will take you for a ride, then I definitely recommend this! Overall I would give it 4.5 stars!
Thanks so much for sharing this with me, and I hope you found it helpful!
Take care!

Much love,
Stacie D

---

---

---