It seems as if the coronavirus now has a name - COVID-2019. It doesn't exactly roll off the tongue, but the first step in solving a problem is always defining it. From that perspective, the new name is, I guess, some form of progress.
Still, a clutch of people in China, somewhere on the order of 1 billion people or more, are virtually, if not literally, confined to their immediate environs.
For myself, I can go outside. But I can't much leave my apartment complex. Not that there's any reason to go out there: All restaurants, bars and other gathering places are forcibly closed until further notice. The guesstimate as to when that might actually happen is now March. Every couple days, that timeline gets pushed out further. I'm hoping for the best and things can get back to a modicum of normality as soon as Monday, March 2.
The grocery store shelves are more and more depleted. But luckily we have waimai! What is waimai you say?
Well, waimai is how China refers to the most advanced online food delivery ecosystem in the world. During this crisis, these online platforms are a godsend. This new ad that MCD is paying for on Alibaba's Ele.me platform sure makes the delivery drivers look like angels!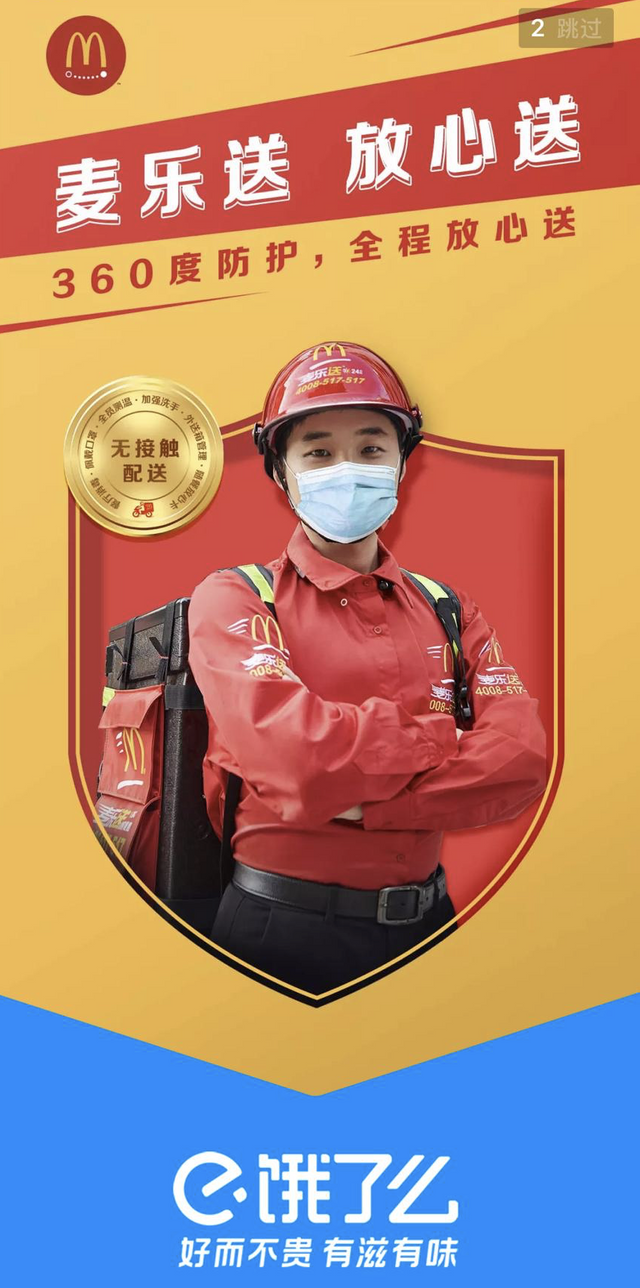 I personally could probably survive on eggs and other "white people food" (think bread and bacon and cheese - things that Chinese people aren't used to cooking) that is still kind of available in the supermarkets. But after a long day of WFH and freaking out reading Barron's reports on the new virus data, I sure could use a nice Macca's double cheeze and fries. I'm a lot like many other fat Americans all over the world (and non-Americans too) - McDonald's is my comfort food.
But how to make sure you're safe with potentially infected strangers handling your food?
McDonald's has got this! I've written before here on Steem about why you should invest because MCD is just about the most innovative company in the world. Now Maidanglao is showing here in China why that is still the case. During this virus lockdown, they've implemented a series of checks and transparent data sharing to increase consumer confidence. Here is my delivery order from the other day. Note how everyone is listed who has come in contact with my food and their temperatures when they contacted it. That's peace of mind!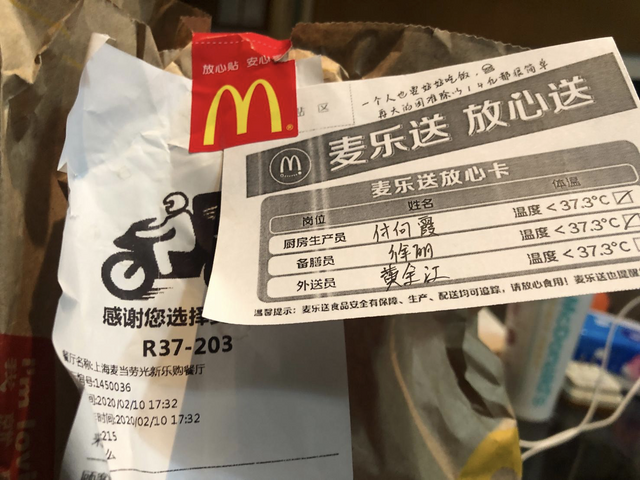 But that's just the tip of the iceberg. They also have ingrained in their processes a 360-degree safety check that includes everything from sealing the bags of orders upon leaving the kitchen to making sure that the drivers have disinfected their delivery boxes.
It's sad that it's come to this. But desperation often leads to innovation.
P.S. If you want more unfiltered, unbiased coverage of what's going on here in regards to the COVID-2019 virus, I suggest you check out a recent post by @mobbs called "Life inside China during the CoViD-19 Virus Outbreak".
Posted via Steemleo