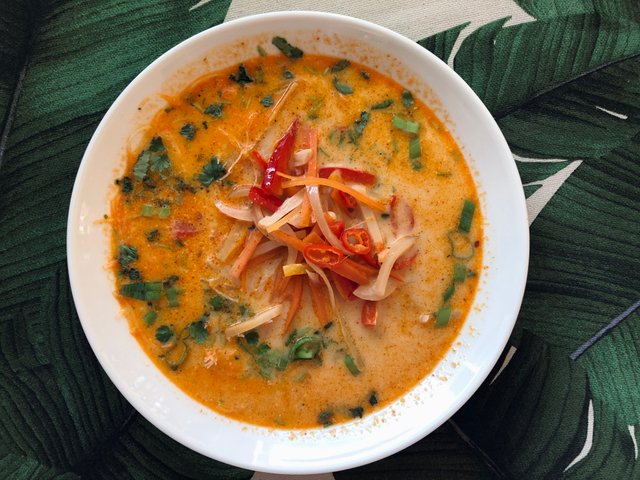 I am very lazy at cooking for myself but when I do decide to make something, I wanna make it real good. I really like soups and I don't know why I don't make them more often. Need to make a note of cooking soup at least once a week, which will then last me for a few days and I don't have to make an effort to feed myself.
My friend asked me for a recipe on making coconut curry sauce for chicken the other day, and
ever since that I've been graving something similar. So I decided to make a veggie coconut curry soup and it came out really delicious. I basically made this from scraps and had everything I needed in the cupboard to make it. Always a plus when I don't have to go to the grocery store, that is not the kind of shopping I enjoy.
I chopped up chili, garlic, ginger, carrots, parsnip, red and yellow paprika, sauteed everything in oil, added curry paste, then added water, season with salt, pepper and lime. Then after a bit of boiling poured in the coconut milk. When plating, I added glass noodles, spring onions and cilantro. So fast, so healthy, so good.